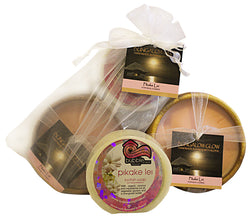 Bubbleshackhawaii
Pikake Lei Loofah Lather/Soy Poi Candle Gift Set
Includes one Pikake Lei loofah lather and one Pikake Lei soy poi bowl candle in a white gift bag.
The Hawaiian jasmine flower, with its distinctive aroma, is featured in the most beautiful flower leis. A seasonal and somewhat temperamental flower, availability can sometimes be scarce. So, for year-round enjoyment use our Pikake Lei loofah lather and soy poi candle.
Loofah Soap Ingredients: Vine-grown loofah sponge, vegetable glycerin, Hawaiian macadamia nut oil, natural colorant, Bubble Shack's exclusive fragrance blend of natural and essential oils.