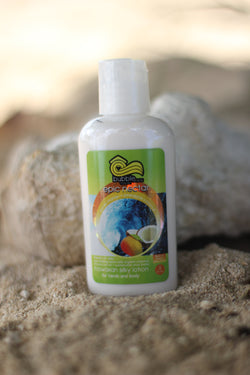 Bubbleshackhawaii
Epic Nectar Kukui + Shea Hawaiian Silky Lotion 2oz
Like the epic waves on Oahu's North Shore, our Epic Nectar Kukui and Shea Hawaiian Silky Lotion features massive waves of Hawaiian mango, and cool, creamy coconut.
Our 2oz Kukui + Shea Hawaiian Silky Lotion is super soft and light weight. It moisturizes all day without feeling heavy and greasy and includes Hawaiian kukui nut oil.
-Hand stirred with soothing Hawaiian oils plus organic green tea extract and jojoba to heal damaged and sun-kissed skin
-Includes sustainably grown and harvested African shea butter. This shea butter lotion provides outstanding protection for the skin from the elements, sun, photo aging, and elimination of superficial irritations, burns, eczema, dermatitis and dermatosis.
-Light weight, non-greasy formula absorbs quickly and seriously moisturizes
-Includes up to 70% organic ingredients
-Handmade in Hawaii, 100% vegan lotion, sulfate, paraben and phthalate free
Ingredients: Purified Water, Organic Aloe Vera, Stearic Acid, Glycerin, Isopropy Palmitate, Hawaiian Kukui Nut Oil, Shea Butter, Glyceral Stearate, Organic Safflower, Vitamin E, Organic Jojoba, Organic Sesame, Vitamin A, Sweet Almond Oil, Organic Sunflower, Organic Green Tea, Polysorbate-60, Sodium Hydroxide, Phenoxyethanol, Bubble Shack's exclusive fragrance blend of natural and essential oils.