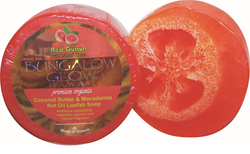 Bubbleshackhawaii
Red Guava with Island Citrus Premium Organics Coconut Butter Sticker Loofah Soap
Our Red Guava Premium Organics loofah soap is a refreshing mélange of Hawaiian strawberry guavas and island citrus.
Each Premium Organics coconut butter loofah soap is 100% vegan and ocean friendly
*The key to beautifully polished skin that glows, each loofah soap contains organic coconut oil and macadamia nut oil. Our loofah soaps provide the ultimate exfoliation and moisturizing with no clean up.
*Free of parabens, sulfates, EDTA, dimethicone, phthalates and propylene glycol
*Includes antioxidant and vitamin rich Hawaiian macadamia nut oil that help reduce the signs of ageing skin
*Made with Bungalow Glow exclusive fragrance blend with natural and essential oil
*100% Vegan and no animal testing
INGREDIENTS: vegetable glycerin, vine-grown loofah sponge, organic coconut oil, macadamia nut oil, Bungalow Glow's exclusive fragrance blend with natural and essential oils, natural colorant.