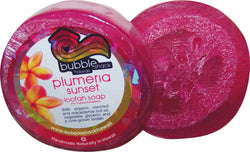 Bubbleshackhawaii
Plumeria Sunset Loofah Lather
Like a beach side sunset with the trade winds gently swirling in the aroma of Hawaiian plumeria flowers and distant strawberry guava trees, you'll love this exfoliating handmade loofah soap. Did you know that the loofah is a climbing plant and its distant cousin is the cucumber? It's also the only plant known that can be raised and used as a natural loofah sponge.
Each Bubble Shack organic loofah lather contains 100% vegetable glycerin soap and a macadamia nut oil base
Sticking with our vow to use local ingredients whenever possible, our macadamia nut oil is also made in Hawaii
A power exfoliator, each loofah soap will naturally brush away dry skin for a wonderfully polished glow. Includes a vine-grown loofah sponge for tropical exfoliation
Infusion of Hawaiian macadamia nut oil to sooth and moisturize
No heavy perfumes or alcohols that dry the skin used in the loofah soap, sulfate free, phthalate-free
Ingredients: Vine-grown loofah sponge, vegetable glycerin, Hawaiian macadamia nut oil, natural colorant, Bubble Shack's exclusive fragrance blend of natural and essential oils.