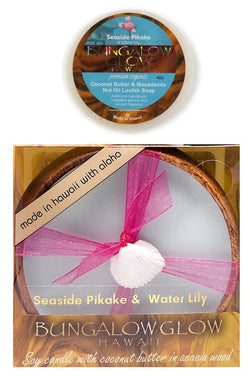 Bubbleshackhawaii
Seaside Pikake Loofah & Candle Set
*Coconut Butter Loofah soap:  The key to beautifully polished skin that glows. Each loofah soap contains organic coconut oil and macadamia nut oil. Our loofah soaps provide the ultimate exfoliation and moisturizing with no clean up.
INGREDIENTS: vegetable glycerin, vine-grown loofah sponge, organic coconut oil, macadamia nut oil, Bungalow Glow's exclusive fragrance blend with natural and essential oils, natural colorant.
*Premium Organics candle with coconut butter: Hand poured with 100% US soy and organic coconut butter for a beautiful finish and even burn. Bungalow Glow candles double as massage oil when lit, providing the ultimate moisturizing with organic coconut butter. Stronger, longer and cleaner burning than paraffin and beeswax candles. Free of petroleum and rainforest depleting palm wax. Biodegradable and less likely to trigger allergies. Handmade in Hawaii with 100% vegan ingredients and Bungalow Glow exclusive fragrance blend with natural and essential oil. UP TO 30 HOURS OF BURN TIME.